I'll be the first to admit it, knowing a lot about Mike Peca was never a priority for me.
He came to Edmonton in a trade for Mike York and a fourth rounder in 2005, but didn't 'show up' until the year was almost over, plus he can grow a beard and likes beans. In a different life he would have been a hobo. That's about all I know about Mike Peca. (and an unsubstantiated rumour that he's nuts for porn, or so claimed a certain unnamed informer who works at Shaw. I mean nuts)
So I was curious when reading
Duhatschek
this morning:
Naturally, Linden and Peca are not going to produce those sorts of numbers, but all the intangibles that they possess - primarily leadership and experience - can add a dimension to their respective clubs.
Leadership?

Turns out he was the alternate captain for the Gold Medal Team Canada win in Salt Lake City 2002, captained the NY Islanders And according to wikipedia, "twice won the Frank J. Selke Trophy for being the best defensive forward, in 1996-97 and 2001-02."

Who knew? (besides anyone who even casually watched hockey over the past ten years)

He was selected by the Vancouver Canucks round 2 #40 overall in the 1992 NHL Entry Draft (info: hockeydb) after a season in which he tore it up in the OHL:





Looking at his career numbers: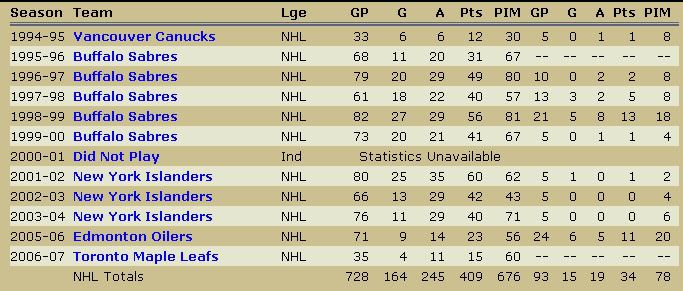 I can now understand why even after seeing him sit out an entire season (2000-01) due to a contract dispute with Buffalo, suffer a broken leg last winter and experiencing first hand his capability for lethargic play, Howson still decided Peca was worth over a million bones for a year of mercenary work (1.2 million bones, to be exact. Plus heavy incentives, which was, I think, a necessary move by the new Columbus GM).

They say you can't measure intangibles, and if some of the kids on the Blue Jacket's second or third line felt a sudden weight dropped from their shoulders on hearing of the signing, then I can't argue the point. Peca's still young enough at 33 to come out with a few more big years and it could be that this season -barring injuries- he get's back on track. Playing under Hitchcock's expectations it could be that Peca, and the Blue Jackets, will have a banner year.


"F*****ck!"